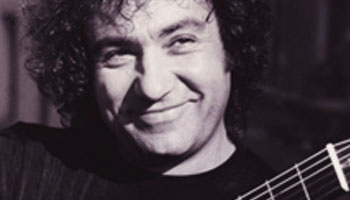 Martin Mastik
Martin Mastik studied guitar in London with John Duarte and lute at the Early Music Center with Anthony Rooley and Chris Wilson. After graduating, he received the Hepzibah Menuhin Award and participated in master classes with Julian Bream in Lübeck and Andres Segovia in Los Angeles. Mastik then embarked on a series of concert tours that took him all over the world.
In America he has performed in San Francisco, Los Angeles, Philadelphia, San Diego, Richmond, Miami, Cleveland and New York. Engagements in Europe have taken him to London, Nice, Reims, Helsinki, Barcelona, Mallorca, Leipzig, Dresden, Prague and Munich (for a concert in the Hercules Hall, where he replaced his mentor, the ill Julian Bream, after short notice announcement).
In Asia he has played in Japan, China, Macao, Singapore, Thailand, Malaysia, Vietnam, Hong Kong and the Philippines. He has also performed at many prestigious festivals, including Lahti, Verbier, Nice, Schleswig-Holstein, Pollença-Mallorca, Istanbul Music Festival, Toledo International Music Festival, Miami Tango Festival, Macao International Music Festival, Flâneries Musicales d 'Eté de Reims. He also took part in tours where he was soloist with Yuri Bashmet and Moscow soloists in a television concert of Vivaldi's Double Concerto for viola and guitar. Mastik has taught at all universities including Tokyo University, Royal Scottish Academy of Music and Drama in Glasgow, National University of Singapore, National Arts Academy Kuala Lumpur, Chulalongkorn University Bangkok, Ho Chi Minh City Conservatory of Music, Temple University in Philadelphia, Malta Conservatory and Toledo (Spain) Conservatory. He has also given master classes in Assisi and at the International Summer Music Academy in Nice. His engagements include a performance with Frederica von Stade at the Palau de la Música in Barcelona, a solo performance and chamber music concert with Nigel Kennedy and Cho-Liang Lin at the Verbier Festival, a Schubert program concert at the Schubert Festival at the Library of Congress, Washington, DC, a concert with the Pražák Quartet at the Regensburg Music Festival, solo concerts at the Bing Theatre of the Los Angeles County Museum of Arts, the San Francisco California Palace of the Legion of Honor, the San Diego Museum of Arts, the Manoel Theatre Malta, the Palace du Culture Algiers and the Cleveland Museum of Arts. In 2002 and 2003 Mastik also toured Malaysia, Vietnam, Singapore, Thailand, Algeria and Malta. He has given concerts, master classes and live television concerts under the auspices of the US embassies.
On October 5, 1996 Mastik gave the world premiere of the Third Guitar Concerto – Capriccio Diabolico by Mario Castelnuovo-Tedesco in the revised version for guitar and orchestra with the Bergen Philharmonic Orchestra under Dmitri Kitajenko in Grieg Halle, Bergen, Norway. Together with the Gewandhaus Orchestra Leipzig under Herbert Blomstedt Mastik gives the world premiere of the Capriccio Diabolico in Germany on November 28, 1999 (during a UNICEF Gala). The British premiere of Astor Piazzolla's Guitar Concerto was performed by Mastik together with the London Philharmonic Orchestra at the London Royal Festival Hall in 1998. In April 2002 Mastik gave the world premiere of Astor Piazzolla's Guitar Concert with the New World Symphony – Miami. On 10 May 2003 Mastik was soloist in Astor Piazzolla's Guitar Concert with the Dresden Philharmonic Orchestra. Martin Mastik, an American citizen born in the Czech Republic, plays a "perseveranda" guitar by guitar maker Jose Luis Romanillos.