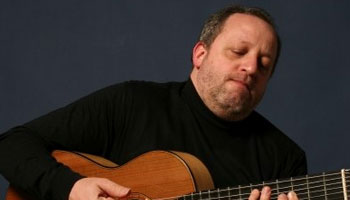 Lucio Matarazzo
www.luciomatarazzo.it
www.dotguitar.it

Lucio Matarazzo studied with M° E. Caliendo at the Conservatory "D. Cimarosa" in Avellino (Italy), where he graduated "summa cum laude". Then he studied with O. Ghiglia, J. Tomas and, subsequently, A.Gilardino, graduating at the "L. Perosi" Academy (Biella, Italy), where he was bestowed the rare honour of Special Mention. For more than twenty years he was performing in duo with the guitarist Mario Fragnito. The duo won, among others, the International Competition of Stresa, Palmi, Forte dei Marmi, Trapani and Berlin. Participations in contemporary music festivals include those held in Pescara ("Musica del nostro secolo"), Ferrara ("Aterforum"), and Berlin ("T. Yamashita Festival").
For the renowned publisher Bèrben Ed., Lucio was asked to undertake the revision and fingering of works by S.Dodgson, A.Ruiz Pipò, A.Piazzolla, F.Farkas and M.Castelnuovo Tedesco for the XXth Century Music Edition edited by A.Gilardino.
As a member of the jury in international competitions including the "Segovia" c. (Maiorca, Spain), "Yamashita" c. (Berlin, Germany), "De Bonis" c. (Cosenza, Italy), "Pittaluga" c. (Alessandria, Italy), Lucio has been instrumental in launching the careers of many young and talented guitarists.
In duo with M. Fragnito, Lucio recorded 2 lp's and 5 CD's for Lira Records, Ducale and Edi-Pan editions. The duo performed concerts in Europe including numerous world premières, such as the M.Castelnuovo Tedesco's 24 Preludes and Fugues (whose new 4 vol. edition Lucio is presently completing for Berben).
He is now involved, as a soloist, in a comprehensive project of recording that includes guitar studies by authors of the 19th and 20th centuries. Three successive CDs, dedicated to M.Carcassi (Studies op. 60 and Capricci op. 26), L.Legnani (36 Capricci op. 20), and M.Giuliani (Studies and works) have been published by Arkadia-Agorà and Niccolò, respectively, and have garnered unprecedented praise in the highest echelon of the guitar world. The Giuliani CD was awarded as the best CD in 1999 in Bisceglie, where Giuliani was born. In 2001, Lucio played some pieces from "Le marteau sans maître", by P.Boulez, at the San Carlo Theatre in Naples, in a concert dedicated to the Author, who was assisting.
Together with three young guitarists, graduated "cum laude" at the Avellino's Conservatory, Lucio recently formed the GuitArt Quartet that is critically acclaimed as one of the most original and inventive guitar ensembles performing in the world today. This formation has kindled the interest of today's most important composers. Angelo Gilardino composed the Concerto Italiano for four guitars and orchestra (première in 1999); in 2001 Gerard Drozd wrote the Concerto Rapsodico op.80 for four guitars and orchestra, premièred by GQ in the Lublin (Poland) International Festival in the same year.
GQ achieved International recognition in 2001, when Leo Brouwer wrote his Concierto Italico and dedicated the work to them, the first Italians to whom the maestro dedicated one of his concerti. So the GuitArt Quartet joins the ranks of other great musicians, such as Julian Bream, Sharon Isbin and John Williams, for whom Brouwer has composed important works. The Concierto Italico première was held in the Todi International Festival (in this same context, GQ also played a version of the Tango Suite for four guitars and orchestra by Astor Piazzolla) with Maestro Brouwer as conductor. With him, GQ produced a CD and a DVD illustrating the story of this première, widely regarded as "the guitar event of the year".
GQ developed an unprecedented collaboration with Maestro Brouwer, who was the conductor in concerts for the L'Avana International Festival (Cuba) and for the Parma Teatro Regio in 2002.
In 2002 the English magazine Classical Guitar dedicated their front cover and an extensive interview by Colin Cooper, and M. Summerfield included this ensemble in the prestigious publication "The Classical Guitar", that chronicles all of the most important guitar artists since 1800.
GQ performed in major international festivals, including Madrid, Lublin, Gliwice, León, Cuba, Santo Tirso, L'Avana, Barcelona, Ciudad Real, Cordoba, Rome to name but a few.
GQ was also involved in more non-traditional performances, such as the realization of Steve Reich's Electric Counterpoint for "Musica e Oltre" in Pisa and the participation in the 2000 Guitar Event with Steve Hackett (founder of Genesis), Frank Gambale (ex-Chick Corea band member) and Maurizio Colonna.
In 2007 GQ has undertaken a collaboration with the famous singer Antonella Ruggiero, participating in the event "Un uomo in frac", homage to Domenico Modugno, held at the Roman Theatre in Benevento, broadcasted by RaiUno and Rai International and seen worldwide by about 45 million people. Furthermore GQ participated as "guest stars" in the CD "Genova la superba", recorded by the artist, accompanying her in the piece "Ma se ghe pensu".
In 2002, GQ carried out a successful tour in the US, making their début with the Hartford Festival Orchestra conducted by Brian Sparks for the Connecticut Classical Guitar Society, and held two guitar and chamber music masterclasses for the Hartt School (University of Hartford). In 2003 they made a success in the Iserlohn Festival, in Germany.
In 2005 GQ performed, in the prestigious Festival of Cordoba, the world premiere of Concerto Brasileiro, second concerto written by L. Brouwer on themes by E. Gismonti.
The GQ debut CD From Spain to South America (Niccolò label) – of which the French magazine Les cahiers de la guitare said "And always reigns this very full impression due to the ensemble's brilliant interpretation and masterful use of color and expression" "…les interprètes sont géniaux…" -, including works by Albéniz, de Falla and Piazzolla, is distributed worldwide. Furthermore GQ realized (with Leo Brouwer) the DVD Diario Italico and recently recorded the entire repertoire of guitar music, including the world première of Concierto Italico, conducted by the Author.
A further example of GQ's commitment to the promotion of the classical guitar is the quartet's role as primary directors and editors of GuitArt, widely considered as one of the world's most important magazines dedicated to guitar. Lucio currently teaches guitar at the Conservatory of Avellino, Italy, where he is the Director of the Guitar Department and of I and II level courses.
Lucio Matarazzo plays with a "Leonardo" guitar (cedar/cypress) by M° G.Giussani, with Exagon tuning machine and D'Addario EXP strings.